About Us
Our Department is dedicated to the teaching and learning of Macro and Microscopic Human Anatomy by means of up-to-date, state of art teaching methods guided by highly capable experienced faculty. The Department is housed in the southern end of the college block and is spread over an expanse of 2142 sq feet. The Department caters to undergraduate (I MBBS) and postgraduate (MD) students and seeks to impart a solid foundation of anatomical knowledge on which clinical skills are built. Placed as we are at the doorsteps of medicine, we strive to instill in our students the core values of professionalism and ethics.
The Department boasts of spacious and well equipped dissection hall, demonstration rooms and practical laboratories. Students have access to hands on Anatomy learning through faculty guided dissection sessions, live video demonstrations, wide collection of specimens, models, charts and radiographs to aid in visual memory and understanding. The Anatomy museum is a feast to learners and laymen alike with an exhaustive collection of dry & wet specimens, fetal bones and cross sections. A combination of traditional and recent multimedia based teaching are used to render effective student education. In addition to academic activities, the Department is fully geared to support research activities. Faculty are involved in research projects and as guide undergraduate students in short term research activities, in a bid to nurture the thirst for knowledge and discovery in the young mind. Facilities for advanced research include cryostat, Leica microtome and special stains.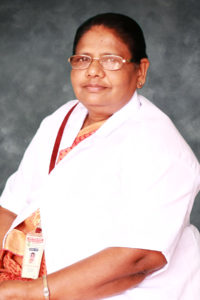 Message from HOD
It is a pleasure and honour to head the anatomy department at CMCHRC. Our Faculty work in an invigorating and friendly atmosphere. Our students gain exposure to traditional and current styles of learning anatomy. Our priorities lie in imparting sound anatomical knowledge that the student can call upon at any later point of professional practice and tune the critical thinking skills of the medical student. While we focus on scoring well in the examinations, what we really inculcate in the student is the habit of knowledge –seeking that will establish the lifelong learning habits necessary for a 21st century medical professional. We nurture research among both faculty and students and ensure that those interested have access to necessary guidance and infrastructure. It is my personal belief that forging the foundation of a competent and conscientious medical graduate lies with the Department of Anatomy when he first meets the cadaver, "the first patient".